Friday, July 7, 2023 / by Patricia Shipley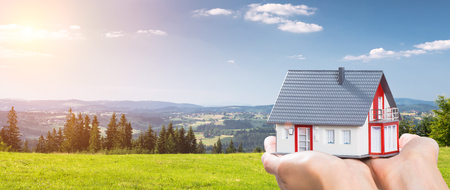 "The ache for home lives in all of us." — Maya Angelou


There comes a point in our lives where we want to put down roots. Where we want something we can wholly call our own. Whether you are a young man or woman who has always had a dream of owning their own home, a freshly married couple that wants to set down roots, or you have had enough of your 4,000 sq ft house and just don't want to clean it anymore or walk up and down the stairs and have found it is time to downsize... and it is time to make that very big, very scary purchase. So if you are about to make one of the biggest investments of your life, you need to explore and understand why.


1. Autonomy from Landlords

The word landlord comes with quite the stigma, as many people have negative experiences with them. Often, it is what pushes people into looking into home buying. As we learned during COVID the real estate market affects not just buying and selling, but rental markets too. Higher rents started happening, tenants are no longer allowed to extend their lease without paying hundreds more than they were already.
Not to mention the usual issues of being unable to get things fixed in a timely fashion, only certain pets allowed if at all, and if they are you get charged extra for having them there. You can't paint this, plant that or change this. It's hard to make a house a home if it is not yours, it's hard to find sanctuary when you aren't sure if you will even be there in a year.
Realtors have found this to be a common theme, specifically with first time home buyers. They are looking for their own piece of the American dream, with no one telling them what they can or cannot do with it.

2. Setting Down Roots

So you and your significant other have found where they want to start their lives. Whether it is a location with the job of their dreams, a beautiful city that they want to start a family in, or any other number of reasons they want a new beginning. Many people choose to stay close to family and stay in their hometown. Some go clear across the country to start fresh and have adventure. A lot just want a place to START. Buying a home claims a piece of their future, and gives them a home to feel safe and escape the world. Security. Finding that perfect neighborhood, that perfect house that becomes home and will hold memories, and working with people who understand what that means to you is important when pursuing this!

3. Retiring/Downsizing

There comes a point where your kids have moved on, or just that the huge house no longer holds the draw it once did because you don't want to take care of it. You want to downsize, and live in that cozy ranch house with just enough land that you don't have to break a sweat while taking care of it. Or, if you are like many of our military families, you have retired from the military and you have found that perfect property you want to build your Barndominium on. A homestead, a workshop, pigs and chickens... whatever the dream, it's yours to find and build.

4. Legacy

One of the most important reason to purchase real estate is to leave a legacy to your family. Buying the right property would mean it appreciates as you are paying of the mortgage. So you are not only building equity, but the home is growing in value as you do it. A paid off home means a home for your children or hundreds of thousands of dollars in equity that you can leave to them. Can you have more than one house to leave your children? Absolutely! Even with a VA loan you can use that more than once! (Certain requirements and limitations apply) Building wealth through real estate can leave your family in a very comfortable position when done correctly.


There are many reasons to purchase a home and every person, every family, have reasons unique and special to them. Finding a Realtor to help you navigate and meet those needs and reasons is crucial to finding your home whether it is your first or your forever.








---