Tuesday, February 4, 2020 / by Ashley Griffith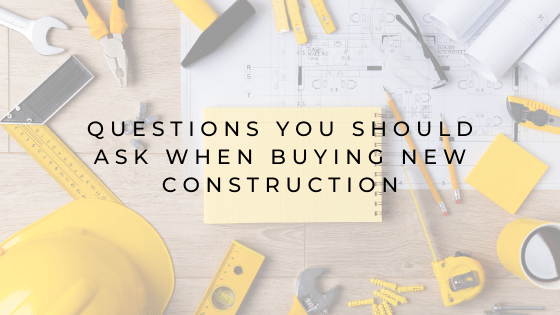 There's nothing like moving into a home that is truly new, with no smells, smudges or dust left behind by a previous owner. Even better is when you get to make your own custom selections. But buying from a builder is a different ball game and it's important you know how to play. Consider these questions if you are considering new construction.
Should you use a real estate agent? I think so! The builder may have sales agents or an assistant that helps buyer's through the process, but those people work for the builder. It's always a good idea to have a professional advocating for you, and most builders will pay agents a commission for bringing the buyer. It's important that your agent accompany you to the first visit to the model center or builders' office so that representation is established.
Does the builder have a good reputation? We've all heard stories of builders who fail to deliver on their promises, using lower grade materials than quoted, or even disappearing before the work was completed. Check out your builder before signing anything. Find out if there are any complaints registered against them and ask for references from other homeowners. Find out if you can tour a model or a recently completed home, and bring someone who can judge the quality of the workmanship.
Should you use the builders' lender? Many builders work with a preferred lender that offers attractive discounts on closing costs when you finance through them. It's important to know if the lender is working as a referral or if the mortgage company is owned by the same company that is building your home. If your lender and builder both work for the same company, it's a good idea to have an attorney review your contracts as an independent set of eyes.
What are the deed restrictions and is there an HOA? Developers usually file a subdivision's restrictive covenants when applying for approval to build the development. Any persons buying property in the development are bound to abide by these restrictions. You can get a copy of the deed restrictions from the builder. Also ask if there is, or will be, a homeowner's association, what the HOA fees will be and what they cover.
Can the builder charge extra for unexpected cost increases? Look over the builder's contract carefully, or have an attorney do so, and note if there is an escalation clause that would allow the builder to pass cost increases onto you in the event that materials or labor costs increase during construction.
What warranties are provided? Normally a builder offers a warranty lasting from six month to two years, possibly longer for some items. You should know what is covered under the builder's warranty and for how long. All the major structural items and mechanical systems are usually covered. Appliances are not, but they should come with a manufacturer's warranty. Damage from weather, shrinkage or expansion of the home or foundation, and anything resulting from the homeowner's failure to provide maintenance or from work done on the home after construction is not covered.
What is the timeline for completion? This will depend on whether the build is a production home, meaning the builder is building select models throughout a development, or if you have hired the builder to build a custom home. Production homes can be completed in three to four months, where custom homes usually take a minimum of six months. Regardless, the builder should be able to give you a timeline outlining each phase of construction. Factors affecting the timeline include weather, delays receiving building supplies, or the number of changes you make along the way.
Can you choose different finishes or colors? Again, it depends on the type of build. Certainly, if you are building a custom home, you can make as many changes as you are willing to pay for. But if the home is part of a development and the builder has color palettes and finishes chosen, there may be a limit to how much you can change. Often the builder will allow you to change paint colors, flooring, fixtures, tile or appliances, as long as what you choose is in line with the budget he set, and those items have not already been ordered.
Can you get a credit if you buy your own appliances? If you already own your own appliances or prefer to choose something different from the builder's choice, ask if you can be credited back the amount he had budgeted to pay for those items.
Is landscaping included? It's no fun to get to the end of construction and find out there is no budget for landscaping. Find out what the builder plans to put in in terms of grass, trees and shrubbery. You may want to make additions or changes to his landscape plan.
---